When he's not busy shooting The Green Lantern, Ryan Reynolds is thinking about Deadpool, a Marvel character he first played in X-Men Origins: Wolverine. Hero Complex recently caught up with Reynolds, who dished some details about a possible forthcoming Deadpool project.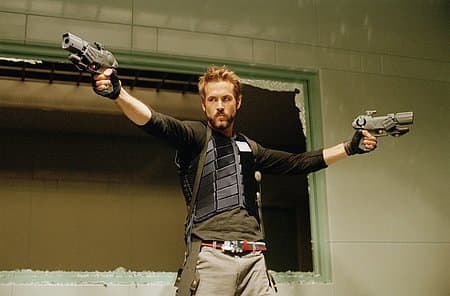 "It goes in such a different direction than a superhero movie usually goes," Reynolds says of the Deadpool script, which was written by Zombieland's Rhett Reese and Paul Wernick. "It's a nasty piece of work. It's just based in so much emotional filth, completely. It's like Barfly if it were a superhero movie. It sort of treads into the world of an emotionally damaged person. I always say that Deadpool is a guy in a highly militarized shame spiral… It's so different than the superhero movies to date, it departs so far from that."
"There's a gamble to it -- you're going to lose a few people right at the beginning but you take the gamble and know that eventually you're going to win them back," he says. "You won't lose the hard-core fans of the character, they already know who he is. We have to play to a broader audience than that. As an actor you have to be willing to do something like … back in Vancouver we used to call it a [nasty] burger. 'You gotta eat the [nasty] burger to get to the cookies.'"