Well, it looks like Adam Green's free ride is over. Green's latest film, Hatchet II, a sequel to his first hit slasher movie about swamp-dwelling serial killer Victor Crowley, managed to be released in a very small amount of theaters (60 AMC theaters in the US and Canada) despite not having passed the MPAA ratings board with an "R" certificate.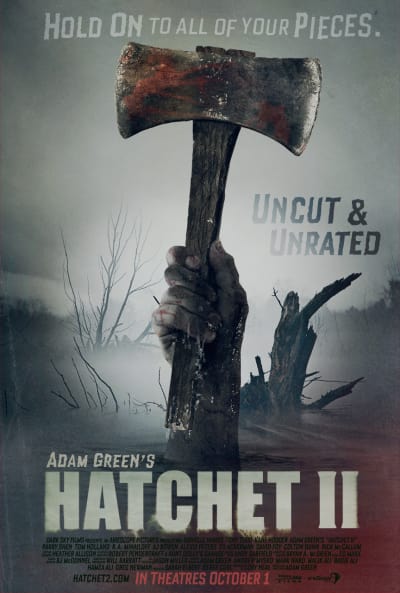 "It turns out the people who make the decisions at AMC were big fans of the original Hatchet and loved the sequel." Green told Entertainment Weekly. "I think the quote was that they thought it was the best slasher sequel they'd ever seen."
Unfortunately, the MPAA apparently won't stand for any unrated films being released to theaters, and the film has been pulled from all 60 locations after earning only $70,000.
"I assume it probably had something to do with the controversy online about an unrated movie playing in theaters," Green explained. "To me, the whole thing is unfortunate because this is not a movie that deserves to be unrated. It's a very funny, silly slasher movie about a swamp ghost that's killing people in ridiculous ways. And now it's become, you know, 'Banned from cinemas.' I've lost 11 pounds in the last week from stress."
If you didn't catch Hatchet II in theaters, don't worry. Distributor Dark Sky Films is working "as fast as they can" to port the film over to Video On Demand and DVD. I guess this is one instance where a simultaneous release to both theaters and home video might have been beneficial.