Christopher Nolan is an enigmatic dude, as if you couldn't tell from Inception. When everyone in Hollywood is trying to climb the 3-D ladder, he says "f-that, I'm shooting IMAX" and we love that about him. But what we don't really love is how he toys with us.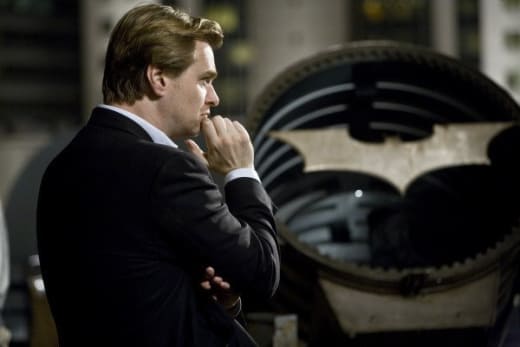 Speaking with Hero Complex, Nolan has revealed some interesting facts about his third Batman movie, most notably what it'll be called. We know you're jonesing for it: The Dark Knight Rises.
It kind of makes you wish Batman Begins was called The Dark Knight Begins instead, then we could really call this The Dark Knight Trilogy, doesn't it? Well, that's not all Nolan had to say.
"It won't be the Riddler," Nolan told the site flat out. He went on to say, "We'll use many of the same characters as we have all along, and we'll be introducing some new ones." You can interpret it that way, but this tidbit will undoubtedly solve the argument over the fate of Harvey Dent at the end of The Dark Knight.
Technology-wise, Nolan isn't backing down from his anti-3D stance, confirming he's planning on shooting the third installment in IMAX:
"We want the look and feel of the film to be faithful to what has come before in the first two films," he said. "There was a large canvas and operatic sweep to 'The Dark Knight' and we want to make a film that will carry on with that look and feel."
"There's an intimacy at times [with spatial illusion of the 3-D effect] and we didn't want to lose scale…Our ambition for the third movie is to complete a story that has begun. This is not starting over, this not rebooting. We're finishing something, and keeping a consistency with what's come before has real value."
Whoa, what does that mean? Will this be the final Bat-film from Master Nolan? Say it ain't so!