A few years ago, Beavis and Butthead creator Mike Judge made a movie starring Luke Wilson called Idiocracy, which ran with the premise that stupid people procreate faster than smart people, resulting in a dystopian future where an average Joe from the present is the smartest man alive. In this future society, where you can get Carl's Jr. from an ATM, go to law school at Costco, and relax in a toilet recliner while watching your favorite rerun of Ow, My Balls!, the top-grossing film of all time is Ass, a movie that is nothing more than an image of a man's buttocks and a soundtrack of nothing but loud farting for 90 minutes.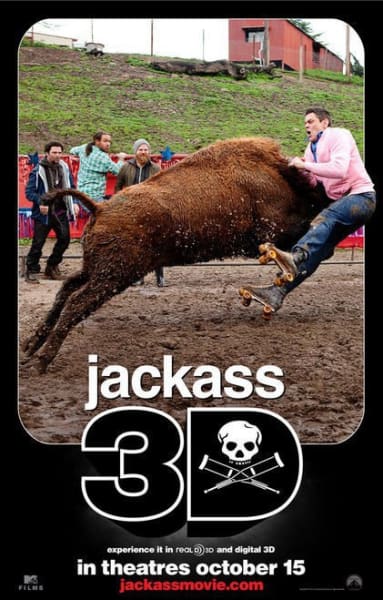 It makes perfect sense, then, that Beavis and Butthead introduce Jackass 3-D, because this film is our present-day equivalent of Mike Judge's Ass. It has no story, it has no real character development, and it has a plethora of flatulence. But it's so goddamned entertaining!
For a little over 10 years now, Spike Jonze, Bam Margera, Ryan Dunn, Chris Pontius, Steve-O and Johnny Knoxville have made a killing almost killing themselves on camera for the sake of hilarity. Now they're back, just as we last left them, maybe a little older, but certainly not any wiser, in a respectable sequel to Jackass: The Movie and Jackass 2. I use the term respectable loosely because, as with all things Jackass, the idea is to push the limits of social acceptability.
There are all-new hijinks to be witnessed, from staged midget fights to sketchy bike jumps to porta-potty slingshots, not to mention variations on old favorites like Knoxville and Jonze in Hollywood-quality old man makeup, many in super slow-motion, and many in three dimensions. New disgusting additions involving fecal matter and other bodily fluids are vomit inducing, but what's really surprising is how effective the new Jackass is at bringing out feelings of repulsion, dread and mirth, which is more than I can say for most of Hollywood's standard product the last few years.
[video url="http://www.moviefanatic.com/videos/jackass-3d-clip--bam-gets-a-hand/" title="Jackass 3D Clip- Bam Gets a Hand"][/video]
No, it's not the 3-D that gets you, even though it does add an amusing later at several points, it's the degree to which Knoxville and the gang take their jokes, stunts and almost complete lack of sense involved in their procedure. Several times during the film, you'll cringe at pain inflicted and get nauseous while characters puke and poop their way to glory.
But predominantly, the film makes you laugh hard. Not once did I not find it to be genuinely amusing. We've lived with these guys for a while now, and they've really become our stupid friends who do stupid things that you can't help but giggle at. The truth is, low-brow or not, I laughed so hard during Jackass 3D that I left the theater with a headache. Or maybe that was the 3-D.
[video url="http://www.moviefanatic.com/videos/jackass-3d-clip-duck-hunting/" title="Jackass 3D Clip: Duck Hunting "] [/video]
Either way, Jackass 3D is sure to make another pile of money for its creators and performers. I'll bet there's another one down the pipeline, that is, if the apocalypse doesn't arrive first.