An official synopsis for Transformers: The Dark of the Moon has been leaked online via Amazon.com's description of Transformers 3 Push-Pops. Check it out after the jump!
I'll put a spoiler warning before the synopsis, but to be honest, the plot details are rather thin. I've also included our hilarious Transfomers: The Dark Side of the Moon album cover, because we know you Pink Floyd fans love it so much.  Check out more Transformers 3 pictures in the gallery!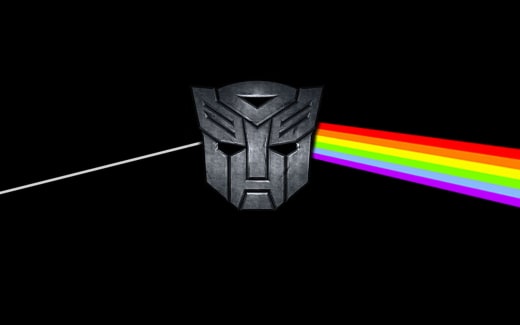 WARNING SPOILERS BELOW!
The Autobots, led by Optimus Prime, are back in action, taking on the evil Decepticons, who are determined to avenge their defeat in 2009's Transformers Revenge of the Fallen. In this new movie, the Autobots and Decepticons become involved in a perilous space race between the U.S. and Russia, and once again human Sam Witwicky has to come to the aid of his robot friends. There's new characters too, including a new villain in the form of Shockwave, a longtime "Transformers" character who rules Cybertron while the Autobots and Decepticons battle it out on Earth.
Catch up with Michael Bay, Shia LaBeouf and all of their robot pals on July 1, 2011, in 3D!