Rogue has released three new clips from Wes Craven's My Soul to Take, which opens theatrically in 2D and 3D October 8th. The film centers around seven teens who, born on the same day a notorious serial killer died, are falling victim to mysterious deaths at the hands of what looks to be the same killer. It stars Max Thieriot, Denzel Whitaker, Raul Esparza, and Shareeka Epps.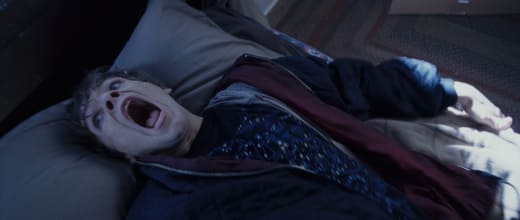 Check out the clips and a full synopsis after the jump, and see all of our My Soul to Take trailers in the gallery!
[video url="http://www.moviefanatic.com/videos/my-soul-to-take--3-clips/" title="My Soul to Take- 3 Clips"][/video]
Wes Craven (A Nightmare on Elm Street, The Hills Have Eyes, Scream series) brings audiences his latest suspense thriller with My Soul to Take. In the sleepy town of Riverton, legend tells of a serial killer who swore he would return to murder the seven children born the night he died. Now, 16 years later, people are disappearing again. Has the psychopath been reincarnated as one of the seven teens, or did he survive the night he was left for dead? Only one of the kids knows the answer. Adam "Bug" Heller (Max Thieriot) was supposed to die on the bloody night his father went insane. Unaware of his dad's terrifying crimes, he has been plagued by nightmares since he was a baby. But if Bug hopes to save his friends from the monster that's returned, he must face an evil that won't rest…until it finishes the job it began the day he was born.  The film stars Max Thieriot, Denzel Whitaker, Raul Esparza, and Shareeka Epps.