It seems Transformers 3 isn't going to be called Transformers 3 for long. Michael Bay and company seem to have settled on an actual title for the film, and that title is... Transformers: The Dark of the Moon.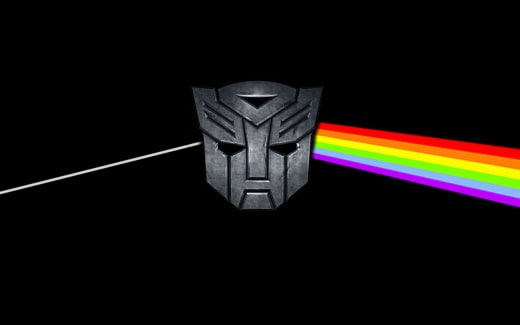 Collider.com has confirmed the title, citing a slate of to-be-released tie-in novels that bear the same name, as well as direct confirmation from "sources close to the production."
Maybe Bay has been listening to too much Pink Floyd lately, or maybe he's going to edit his new Transformers movie so it syncs up perfectly with the band's seminal 1973 album Dark Side of the Moon, like The Wizard of Oz. Personally, it sounds a bit doofy to me; I'd much rather they go all the way and call it Transformers: The Dark Side of the Moon. Oh well.
Transformers: The Dark of the Moon stars Shia La Beouf, Rosie Huntington-Whiteley, Josh Duhamel, Tyrese Gibson, John Turturro, Alan Tudyk, Ken Jeong, Patrick Dempsey, and John Malkovich, and will hit theaters in 3D on July 1, 2011. Be sure to wear your favorite Floyd shirt on opening night.