Warner Bros. has released the first official photo from The Hangover 2, starring Zach Galifianakis, Bradley Cooper, Ed Helms and Justin Bartha. The new image is very similar to the snapshots of the guys in the airport that were leaked last month.
Check out the new still below, see all of our Hangover 2 pictures in the gallery, and hit the jump for the official synopsis! Click the thumbnail to view larger and get ready for another Hangover on May 26, 2011!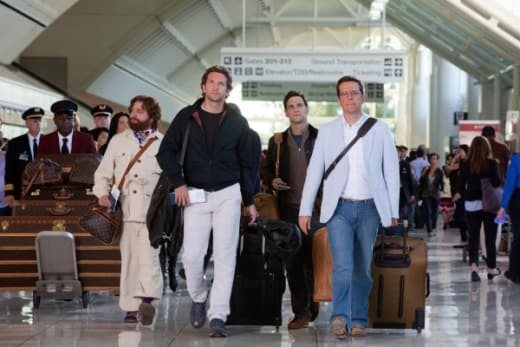 In the follow-up to the record-breaking hit comedy "The Hangover," Phil (Bradley Cooper), Stu (Ed Helms), Alan (Zach Galifianakis) and Doug (Justin Bartha) travel to exotic Thailand for Stu's wedding. After the unforgettable bachelor party in Las Vegas, Stu is taking no chances and has opted for a safe, subdued pre-wedding brunch. However, things don't always go as planned. What happens in Vegas may stay in Vegas, but what happens in Bangkok can't even be imagined.