After making a killing at the box office back in October, it was predicted that, much like what was done with the previous installment, Paramount and MTV would utilize the plethora of deleted footage from Jackass 3D to create another feature-length film to release to the masses. With a franchise that seems tailor-made for the internet, the forthcoming Jackass 3.5 will be released online in weekly segments before being packaged together into a full-length film available digitally and on other home video platforms.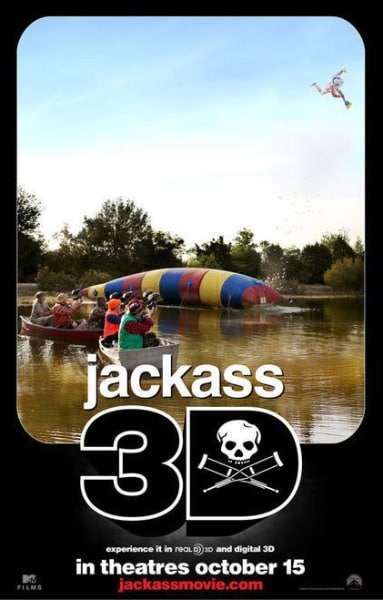 "I don't want to say that the Jackass guys invented the Internet, but they were doing viral videos before most people had even heard the term. That distinguished heritage makes Jackass the perfect franchise for digital," said Thomas Lesinski, President of Paramount Digital Entertainment. "When the Jackass guys went to make 'Jackass 3D,' we proposed that we shoot a follow up to the successful 'Jackass 2.5' digital feature alongside it, and everyone was up for it. In 'Jackass 3.5,' you are going to see an entire movie's worth of new stunts, new pranks and new gags, on whatever screen you choose."
"For 'Jackass 3D' we shot enough footage for two movies so a lot of great stuff didn't make it in the film. Luckily you will get to see those bits in 3.5. We also shot some additional footage in Europe specifically for 3.5. I have staples in my head right now to prove it. Woo hoo," said head Jackass Johnny Knoxville.
Watch for Jackass 3.5 online starting in March 2011.