Disney has done it again with their latest foray into the world of classic fairy tales, this time bringing to life the story of the preeminent damsel-in-distress, Rapunzel, in Tangled.
With her trademark long golden locks, I'm actually surprised it has taken Disney so long to get to one of the most recognizable characters in the Brothers Grimm canon of stories - for the absolutely certain goldmine in merchandising alone.
While the re-telling takes a few liberties, none particularly egregious, the most fascinating difference to me is how Rapunzel is not presented so much as a dainty flower in need of rescuing, as one who is trapped by her own conflicted loyalties.
Somewhat reminiscent of the spunky Jasmine in the Aladdin franchise, Rapunzel proves capable of handling herself as she tussles with several characters throughout the film, often using her luscious mane as a weapon.  She never comes across as a victim of anything other than circumstance, and I appreciated the independent strength in her portrayal, particularly as I sat next to my four-year old niece at the screening.
Former pop-singer turned movie-star Mandy Moore sweetly serves as the voice of Rapunzel, and I have to say her pristine, emotional vocals on the musical numbers were magical in their perfection.  Zachary Levi (Chuck) was most impressive as the flawed, but ultimately noble, Flynn Rider.  Who knew Levi had such a beautiful singing voice? I thought Levi brought a depth and sincerity to Flynn's character typically absent in most of Disney's animated leading men.
Much of the comedy relief came in the way of Rapunzel's pal and confidant, a chameleon named Pascal, who never utters a word but expresses himself primarily in his ability to change colors.  The reactions of Maximus, the horse Flynn steals early on - who also never speaks - are simply hilarious.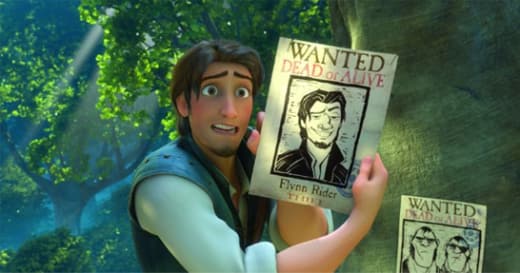 Mother Gothel, the film's main villain, is a much more nuanced antagonist than I'm used to within a Disney adventure.  Her excessive vanity is at the root of her wicked ways, though despite the atrocious grievances she's committed in holding Rapunzel unwittingly hostage all these years, she tethers her ruthlessness, until the film's climax - which makes her that much more ominous. 
The subtly intimidating manner in which she suggests Rapunzel "never again ask to leave the tower," for example, was far more menacing to me than the in-your-face ferociousness of past villains such as Cruella De Vil and Malificent.
The film's only real drawback is the soundtrack. Not that they aren't pretty, but there isn't a "Hakuna Matata," "Be Our Guest," "Kiss The Girl," or any other infectious melody to be found, even though the signature, Oscar-bound song "I See The Light" was beautifully performed by Moore and Levi.  What a letdown. I don't know about you, but even though it can have a tendency to drive a person mad after a while, there's nothing like leaving a Disney film humming along to the songs.  That's likely not going to happen.
As for seeing the film in 3D, I was much more impressed here than with, say, Shrek: The Final Chapter.  There are some great sequences which benefit from the technology, and even had my niece reaching out trying to grasp at the screen.  Despite the tendency of 3D films to be darker than the standard 2D, I thought the images vividly popped off the screen.
Ultimately Tangled is a great movie and a fun, fantasy-filled experience for all ages.  There's no doubt it will yield yet another huge commercial success for Disney.