Dwayne Johnson recently sat down with our pals over at Collider.com to talk about his upcoming movie Faster. With Faster, the Rock is making a return to action cinema after having been relegated to lighter family fare the last few years, like Tooth Fairy.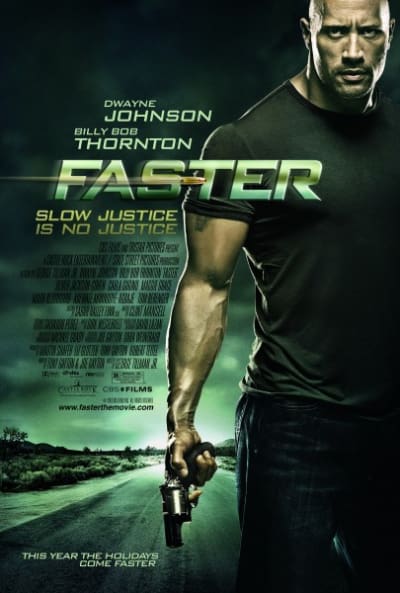 "The script spoke to me, right from the beginning," Johnson explains. "It came across my desk about a year and a half ago, maybe a little bit more. I read it, I loved it and I loved the character. I'm excited to get back into this genre. Getting back into the action genre is like going back home."I loved that the characters were well-written, against a simple back drop and simple storyline," Johnson added. "It's about, "You took something from me, and now you're going to pay."
The bulk of the interview is mainly focused on Johnson's working with the other actors in the movie, a few anecdotes about the cool car we see him tearing up the screen in, and the question, "Who's tougher to handle, a Chevelle SS or Billy Bob Thornton."  But you know you're going to have a hell of an action movie on your hands when The Rock tells you, "Words spoken to bullets fired is 1 to 25."
Check out the rest of the interview over at Collider.com, and see more of the film in our Faster pictures and Faster trailers galleries!