Last we heard from Christopher Nolan, he claimed he and his crew would be attempting to do "something technologically that's never been done before" with The Dark Knight Rises. But what could that be? He's not shooting in 3D, and he's already folded cities on top of one another in Inception, but he was on to something by shooting portions of The Dark Knight in the 65mm IMAX format... so could Batman 3 be the first full-length IMAX feature film?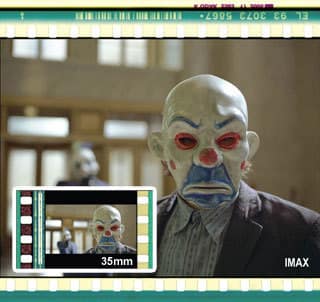 Collider.com has an inside source that suggests just that:
"I'm hearing that Nolan will try and shoot The Dark Knight Rises totally in IMAX.  I've heard that IMAX has been quietly developing a smaller, less intrusive camera that will be able to handle dialogue scenes.  If the camera is finished in time, expect Nolan to use it."
If this is true, it would seem a logical extension to what Nolan has set up in his Batman franchise, would fit in well with the idea of escalation, and would generally be badass to see. But right now, it's just a rumor, so don't hold your breath.