Nicole Kidman and Aaron Eckhart Display a Range of Emotions on the Rabbit Hole Poster
by Rupert Pupkin at . Comments
Kudos to the design team at Lionsgate for releasing a new poster for John Cameron Mitchell's Rabbit Hole, starring Nicole Kidman and Aaron Eckhart. Visually striking, the poster features several different images of Kidman and Eckhart spliced together vertically to present a range of emotions, hopefully emblematic of a the film that just picked up multiple Spirit Award nominations.
Check out the poster below and see the film's trailer in our Rabbit Hole trailers gallery. Click the thumbnail to view larger and hit the jump to read a full synopsis. Rabbit Hole opens on December 17th.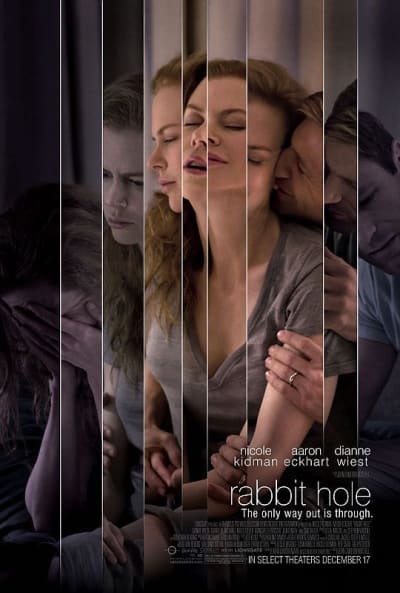 RABBIT HOLE is a vivid, hopeful, honest and unexpectedly witty portrait of a family searching for what remains possible in the most impossible of all situations. Becca and Howie Corbett (NICOLE KIDMAN and AARON ECKHART) are returning to their everyday existence in the wake of a shocking, sudden loss. Just eight months ago, they were a happy suburban family with everything they wanted. Now, they are caught in a maze of memory, longing, guilt, recrimination, sarcasm and tightly controlled rage from which they cannot escape. While Becca finds pain in the familiar, Howie finds comfort. The shifts come in abrupt, unforeseen moments. Becca hesitantly opens up to her opinionated, loving mother (DIANNE WIEST) and secretly reaches out to the teenager involved in the accident that changed everything (MILES TELLER); while Howie lashes out and imagines solace with another woman (SANDRA OH). Yet, as off track as they are, the couple keeps trying to find their way back to a life that still holds the potential for beauty, laughter and happiness. The resulting journey is an intimate glimpse into two people learning to re-engage with each other and a world that has been tilted off its axis.