Paramount Pictures has released four new clips from the Coen Bros.' True Grit, starring Jeff Bridges, Hailee Steinfeld, Matt Damon and Josh Brolin. The western tale is an adaptation of the Charles Portis novel of the same name, which was previously adapted to the silver screen in 1969 and starred John Wayne.
Check out the clips below, and see all of our True Grit trailers and True Grit pictures in the gallery! Retribution comes December 23.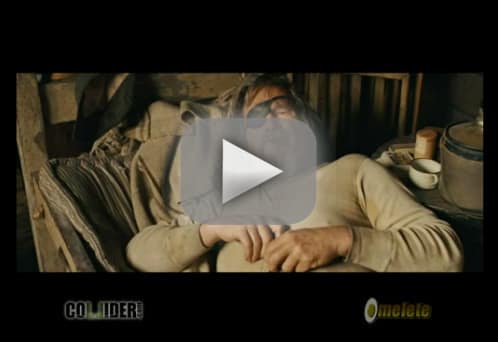 True Grit is a mythic Western adventure story of vengeance and valor from Academy Award winning filmmakers Joel and Ethan Coen, whose stirring adaptation hones in on the plain-spoken humor, bold storytelling and rough beauty of Charles Portis' classic American novel.

    The time is the 1870s, the setting frontier America just after the Civil War, and the taleteller is Mattie Ross, who at 14 years-old journeys to Fort Smith, Arkansas determined to extract justice for the death of her father, shot in cold blood. Highlighted by a cast that includes Academy Award® winner Jeff Bridges (Crazy Heart), Academy Award® nominee Matt Damon (Invictus), Academy Award® nominee Josh Brolin (Milk), Barry Pepper (Saving Private Ryan) and newcomer Hailee Steinfeld as one of literature's most stouthearted young heroines, True Grit is written for the screen and directed by Joel and Ethan Coen and produced by Scott Rudin, Ethan Coen and Joel Coen.  The executive producers are Steven Spielberg, Robert Graf, David Ellison, Paul Schwake and Megan Ellison.

    Mattie Ross (STEINFELD) arrives in Fort Smith as her family's sole representative, in search of the coward Tom Chaney (BROLIN), who is said to have killed her father for two gold pieces before setting out into Indian Territory as a fugitive. Beholden to follow Chaney and see him hanged, Mattie enlists the help of a man rumored to be the most ruthless U.S. Marshal in town — trigger-happy, drunken Rooster Cogburn (BRIDGES), who, after many objections, agrees to hunt Chaney. But Chaney is already the target of the talkative Texas Ranger LaBoeuf (DAMON), who also aims to catch the killer and bring him back to Texas for an ample reward – which brings the trio to collide on the trail.  Each willful and stubborn, each driven by their own rough moral codes, this unlikely posse rides towards an unpredictable reckoning, as they find themselves enveloped in the stuff of legend: mischief and brutality, courage and disillusion, doggedness and unalloyed love.

    The film's distinguished production team is made up of collaborators from many of the Coen Brothers past projects including Oscar®-nominated director of photography Roger Deakins, ASC, BSC (The Man Who Wasn't There, O Brother Where Art Thou?) production designer Jess Gonchor (Capote, No Country for Old Men) and costume designer Mary Zophres (Catch Me If You Can, O Brother Where Art Thou?).  The editor is Roderick Jaynes and the composer is Carter Burwell.