The 68th Annual Golden Globe nominations were announced this morning by the Hollywood Foreign Press Association, and there are several films we expected to see in the running for the big awards, like Black Swan and The Social Network, and even films we hoped would get recognition, like Inception. But there's one that just doesn't quite fit...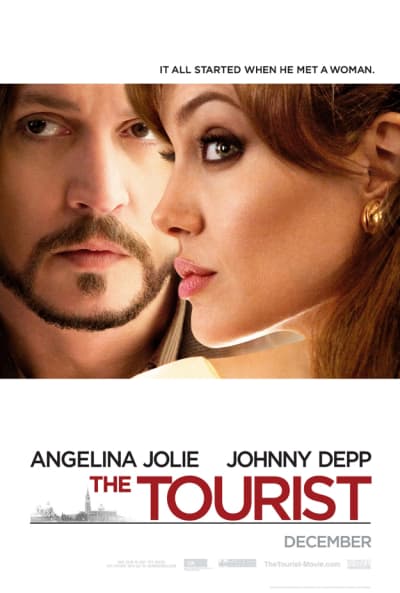 Apparently the Golden Globes have classified the Angelina Jolie / Johnny Depp romantic thriller The Tourist as a Musical or Comedy and have nominated it for Best Picture in that category. Either someone over at the nomination committee has a wicked sense of humor, or everything we know about The Tourist was a lie, because the film, and its meager opening at the box office this past weekend, wasn't very funny. Sure, there's a romantic comedy in there somewhere, but is it Best Picture material? We don't think so.
Either way, hit the jump to check out the rest of the nominations, the awards for which will be presented on Sunday, January 16th starting at 5pm on NBC.
Best Picture: Drama
Black Swan
The Fighter
Inception
The King's Speech
The Social Network

Best Picture: Musical or Comedy
Alice in Wonderland
Burlesque
The Kids Are All Right
Red
The Tourist

Best Actor: Drama
Jesse Eisenberg, The Social Network
Colin Firth, The King's Speech
James Franco, 127 Hours
Ryan Gosling, Blue Valentine
Mark Wahlberg, The Fighter

Best Actress: Drama
Halle Berry, Frankie and Alice
Nicole Kidman, Rabbit Hole
Jennifer Lawrence, Winter's Bone
Natalie Portman, Black Swan
Michelle Williams, Blue Valentine

Best Actor: Musical or Comedy
Johnny Depp, Alice in Wonderland
Johnny Depp, The Tourist
Paul Giamatti, Barney's Version
Jake Gyllenhaal, Love and Other Drugs
Kevin Spacey, Casino Jack

Best Actress: Musical or Comedy
Annette Bening, The Kids Are All Right
Anne Hathaway, Love and Other Drugs
Angelina Jolie, The Tourist
Julianne Moore, The Kids Are All Right
Emma Stone, Easy A

Best Supporting Actor
Christian Bale, The Fighter
Michael Douglas, Wall Street: Money Never Sleeps
Andrew Garfield, The Social Network
Jeremy Renner, The Town
Geoffrey Rush, The King's Speech

Best Supporting Actress
Amy Adams, The Fighter
Helena Bonham Carter, The King's Speech
Mila Kunis, Black Swan
Melissa Leo, The Fighter
Jacki Weaver, Animal Kingdom

Best Director
Darren Aronofsky, Black Swan
David Fincher, The Social Network
Tom Hooper, The King's Speech
Christopher Nolan, Inception
David O. Russell, The Fighter