Topher Grace Goes Back to the Eighties in the Trailer for Take Me Home Tonight
by Rupert Pupkin at . Comments
The first trailer and poster have been released for Take Me Home Tonight, starring Topher Grace, Anna Faris, Teresa Palmer, Michael Biehn, Michelle Trachtenberg and Dan Fogler. A throwback to the "boy meets girl" movies of the 1980's, the film stars Topher Grace as an aimless college grad who meets the girl of his dreams, and goes to great lengths to pretend he's an executive at Goldman Sachs instead of a checkout clerk at Suncoast Video in order to impress her at a wild Labor Day weekend party in 1988. Obviously, nothing goes as planned.
Check out the trailer below, and hit the jump to see the poster and read the official synopsis. Take Me Home Tonight on March 4, 2011.
Click the thumbnail to view larger: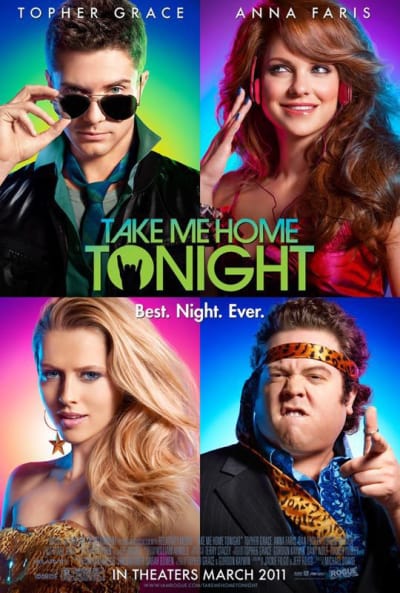 As the summer of 1988 winds down, three friends on the verge of adulthood attend an out-of-control party in celebration of their last night of unbridled youth. Starring Topher Grace, Anna Faris, Dan Fogler and Teresa Palmer, Take Me Home Tonight is a raunchy, romantic and ultimately touching blast from the past set to an awesome soundtrack of timeless rock and hip-hop hits. Recent MIT grad Matt Franklin (Topher Grace) should be working for a Fortune 500 company and starting his upward climb to full-fledged yuppie-hood. Instead, the directionless 23-year-old confounds family and friends by taking a part-time job behind the counter of a video store at the Sherman Oaks Galleria. But Matt's silent protest against maturity comes to a screeching halt once his unrequited high school crush, Tori Frederking (Teresa Palmer), walks into the store. When she invites him to an epic, end-of-summer party, Matt thinks he finally might have a chance with the girl of his dreams. With his cynical twin sister Wendy (Anna Faris) and best friend Barry (Dan Fogler), Matt embarks on a once-in-a-lifetime evening. From stealing a car to a marriage proposal to an indescribable, no-holds-barred dance-off, these friends share experiences that will change the course of their lives on one unforgettable night in the Go-Go '80s.