David and Goliath is the classic tale of big versus little, and an adaptation is underway, according to The Hollywood Reporter.  The website says The Exorcism of Emily Rose director Scott Derrickson is working out the details with Relativity Media to bring the story to the big screen, 300 style.
It's called Goliath and producers are planning in giving the classic film a more modern vibe, similar to what we saw in 300 and The Bourne Identity.
In case you aren't familiar with the biblical story, Goliath is a huge Palestinian warrior sent to destroy the future king of Israel, who happens to be young shepherd named David. David accepts the challenge after being told by Saul he will be rewarded.  A great battle ensues, which we can assume will be visually stunning played out on screen.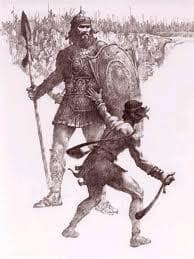 After the success of action flicks like 300 and Clash of the Titans, it seems Goliath has a god chance of success at the box office.
Are you excited to see David and Goliath battle it out on the big screen?