So it's not a photo from the set, but it is an official photo of Rooney Mara in The Girl With The Dragon Tattoo.  This month's cover of W Magazine features the actress all dressed up as Lisbeth Salander, complete with a nose ring, tattoos, and cleavage.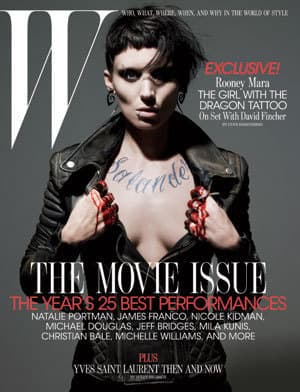 The film, based on the bestselling Steig Larsson book of the same name, follows introverted hacker Lisbeth Salander as she joins former journalist Mikael Blomkvist try to solve a 40-year-old mystery around a missing girl.
According to the article in W that accompanies this bad-ass picture, the movie version will be much different than the novel.  Apparently Salander will be even tougher than her novel counterpart, and the ending will be completely different!!  Say what?  I'm not sure what to think of this revelation
The Girl With The Dragon Tattoo is set to hit theaters on December 21, 2011.