More awards for The King's Speech!  This film is unstoppable. The Directors Guild of American handed out its awards Saturday night (Jan, 29).  The awards were given out at the Grand Ballroom at Hollywood & Highland.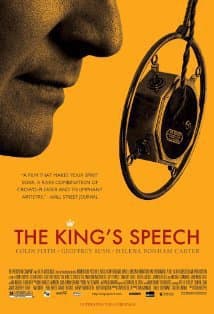 The King's Speech director Tom Hooper took home the top prize for his work.  
Could this be a glimpse into what will happen later next month at the Academy Awards?
Check out the full list of winners after the jump.
Outstanding Directorial Achievement in Feature Film for 2010:

TOM HOOPER, The King's Speech (The Weinstein Co.)

Outstanding Directorial Achievement in Documentary for 2010:

CHARLES FERGUSON, Inside Job

Outstanding Directorial Achievement in Movies for Television and Mini-Series for 2010:

MICK JACKSON, Temple Grandin (HBO)

Outstanding Directorial Achievement in Dramatic Series for 2010:

MARTIN SCORSESE, Boardwalk Empire, "Boardwalk Empire" (HBO)

Outstanding Directorial Achievement in Comedy Series for 2010:

MICHAEL SPILLER, Modern Family, "Halloween" (ABC)

Outstanding Directorial Achievement in Musical Variety for 2010:

GLENN WEISS, 64th Annual Tony Awards (CBS)

Outstanding Directorial Achievement in Reality Programs for 2010:

EYTAN KELLER, The Next Iron Chef, "Episode #301" (Food Network)

Outstanding Directorial Achievement in Daytime Serials for 2010:

LARRY CARPENTER, One Life to Live, "Episode #10,687" (ABC)

Outstanding Directorial Achievement in Children's Programs for 2010:

ERIC BROSS, The Boy Who Cried Werewolf (Nickelodeon)