First photo of the two hosts posing with Oscar.  The first promotional shot released online of James Franco and Anne Hathaway getting ready for their big hosting night.
Not only is James Franco hosting the big night, he's also been nominated in the Best Actor category for his work on 127 Hours.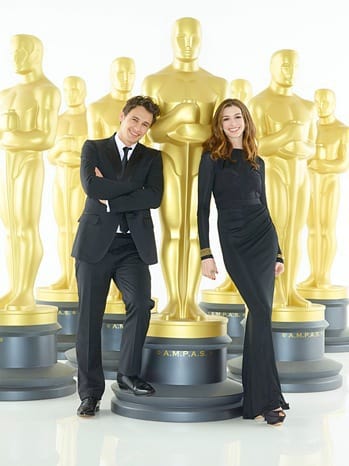 Franco is also getting some advice from a veteran host - Jon Stewart.  Stewart has hosted the show twice before and offers these words of advice,
"Let me tell you what they love. Go at it with the attitude that you're above it all," joked Stewart. "They love it. [Do it] with an ironic detachment bordering on contempt. They will eat it up."
We'll have to wait for Oscar night to see if Franco takes his advice!  We're excited to see these two hosting - hopefully their young perspective brings some much needed excitement to the LONG ceremony!