Now that the Golden Globes are over, the industry has been meticulously analyzing the show.  One of the main topics of conversation was Ricky Gervais and his hosting jokes.  Many people thought they were mean spirited and went too far, others say he was actually quite funny.
Now HFPA President is speaking out and he says Gervais did, in fact, go too far.
"He definitely crossed the line," HFPA President Phillip Berk told The Hollywood Reporter. "And some of the things were totally unacceptable. But that's Ricky."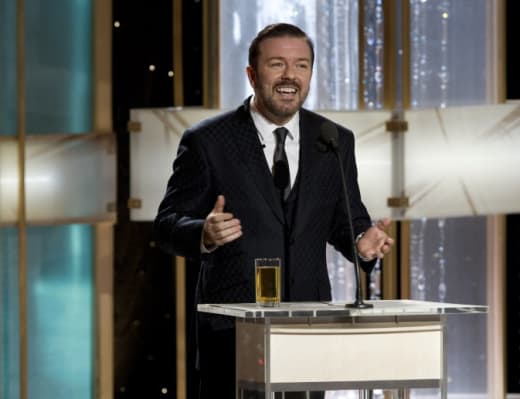 Berk tried to keep the HFPA out of the controversy, saying, "Any of the references to individuals is certainly not something the Hollywood Foreign Press condones."
Gervais used his time on-stage to roast a number of high profile celebs, some present and some not present.  Some celebs took the jokes in stride, others didn't appreciate the low blows.
Robert Downey Jr. snapped back at the host with this comment, "Aside from the fact that it's been hugely mean-spirited with mildly sinister undertones, I'd say the vibe of the show has been pretty good so far, wouldn't you?"
Gervais told the BBC, he thought the show went well and the atmosphere backstage was great, but admitted, he probably won't be back next year.