After the success of Knocked Up, why not create a new comedy around the funny couple from the film.  Universal Pictures has confirmed to Variety that a new Judd Apatow film set to start filming later this year.  The film is scheduled to be released on June 1, 2012.
We don't have much information yet, besides the fact that Mann ad Rudd will star and it will likely feature the characters they created in the comedy Knocked Up.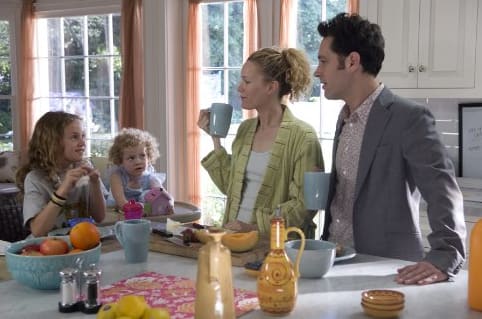 There is no word yet on whether Katherine Heigl or Seth Rogen will reprise their roles as well, although it seems unlikely Heigl will be on-board considering her little tiff with Apatow about his representation of women.
Mann is married to Apatow and appears in many of the films he both directs and produces. 
Rudd will soon be seen starring opposite Jennifer Aniston in the upcoming comedy Wanderlust.  Mann will appear in The Change-Up with Ryan Reynolds and Jason Bateman.