The People's Choice Awards didn't have its best ceremony this year.  For those watching at home, the telecast went black on at least one occasion and the sounds was going in and out at one point during the show.
But those technical glitches didn't stop the winners from being announced. And this year had some surprising results.
Eclipse took the prize in the movie categories, taking home four in total. Twilight fans sure didn't let their votes go to waste.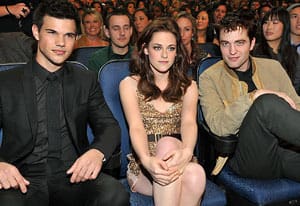 More than 175 million people let their voices be heard by casting their favorite picks, a record shattering number!
Fans picked The Twilight Saga: Eclipse in the Favorite Movie, Favorite Dramatic Movie, Favorite Movie Actress (Kristen Stewart), and Favorite On-Screen Team.
Much to the chagrin of Robert Pattinson fans, Johnny Depp ended up taking home the honors for fan favorite actor. 
Jackie Chan got it for favorite action star, Adam Sandler was voted favorite comedic star, and Zac Efron took home the honors for favorite movie star under 25.
As for actual movies, Grown Ups won favorite comedy movie, Toy Story 3 got the award for favorite family movie, and Iron Man 2 won favorite action movie.