Ricky Gervais hosted The Golden Globes this year and there is already a lot of buzz around his hosting performance.  As a recap, here are some of Golden Globe host Ricky Gervais' funniest lines of the night.  They are also the ones getting the most post-show buzz.  But did they go too far? Some people are not happy with the funny man roasting celebs.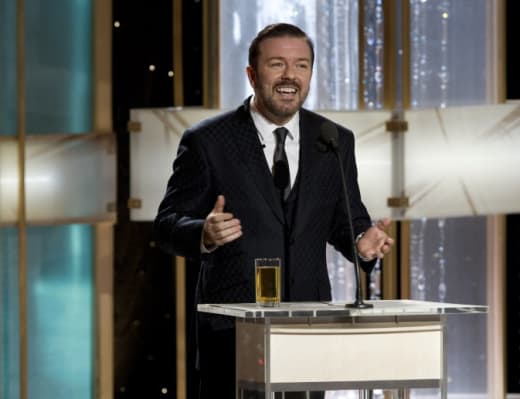 Do you think he hit below the best one too many times?
Here are a few of his zingers getting the most buzz:
- "Welcome to a night of partying and heavy drinking. Or as Charlie Sheen calls it: breakfast."
– "I'd like to quash this ridiculous rumor going around that the only reason The Tourist was nominated so the HFPA could hang out with Johnny Depp and Angelina Jolie. That is rubbish. That is not the only reason. They also accepted bribes."
– "Nothing for Sex and the City 2. I was sure the award for best special effects would go to the team that airbrushed that poster."
– "Who are our next presenter from such films as Hudson Hawk, Look Who's Talking, Mercury Rising, Color of Night, The Fifth Element, Hart's War. Please welcome Aston Kutcher's dad, Bruce Willis."
- "I love this next presenter; he's so cool. He's the star of Iron Man. Two Girls and a Guy. Wonderboys. I'm sorry are these porn films? Kiss Kiss Bang Bang. Bowfinger? Up the Academy. Come on! He has done all of those films, but many of you in this room probably know him best from such facilities as The Betty Ford Clinic and the Los Angeles County Jail. Robert Downey, Jr."
– "Also not nominated, I Love You Phillip Morris, with Ewan McGregor and Jim Carrey, two heterosexual actors pretending to be gay — the complete opposite of some famous Scientologists then." Gervais added: "My lawyers helped me the wording of that joke."
What do you think?
WERE RICKY GERVAIS' JOKES TOO RUDE?