Scary Movie 5 is still happening, according to the official Facebook page.  The Weinstein Co. announced the film would happen about two years ago, but we haven't heard anything since.
Originally, David Zucker was expected return as director.  Anna Faris, Anthony Anderson, and Regina Hall have also expressed interest in returning.  This was all in 2009 when the film was first announced.  It's unclear if all of this is still the same two years later.
There have also been posters circulating online, but there hasn't been any official trailers or posters.  The poster below is from the official Facebook page.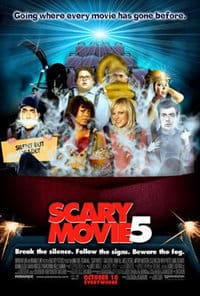 Zucker was originally rumored to want to spoof the Final Destination series, Paranormal Activity, and the Chucky film series.
So, do you want to see more funny spoofs of scary movies?  Or are you over the humorous remakes?