Funnyman Vince Vaughn has some pretty funny lines in The Dilemma.  He's really the only one.
Here's some quotes from The Dilemma. Now you can relive the funniest moments from Vince Vaughn and Kevin James with out list of The Dilemma movie quotes.
Check out the preview below.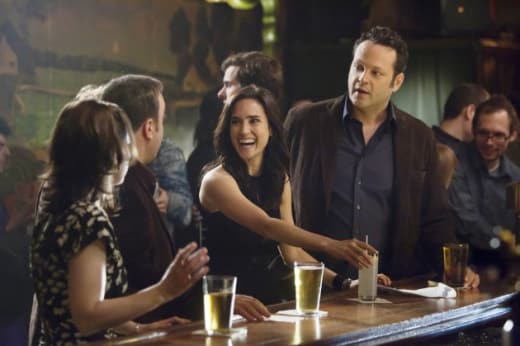 Have you seen the movie?  What was your favorite moment?
Ronny: I am trying to fix this stuff.
Geneva: You are breaking more stuff. | permalink
[Comes in to the party with the bruise on his face]
Nick: Ronny
Beth: What happened to your face.
Ronny: Oh I just had this bar fight.
Nick: Bar Fight
Ronny: I got this place called Zips, Zips bar and grill.
Ronny: It is a place where liers and scumbags and all kind of weird stuff like a blow up of marriage hang out. | permalink
[Ronny to Cousing Betty]
Ronny: Who are you?
Cousin Betty: I am cousin Betty.
Ronny: Are you first?
Cousin Betty: Second. | permalink