A slow start to the new year with Little Fockers still taking the first place prize.  With no new films opening this weekend, the big budget flick rang in the new year with another $26.3 million at the box office.  Although it passed the $100 million mark (the hefty price-tag for the 3rd installment in the series), it did not produce the numbers expected over the holidays.  
Hot on the heels of Little Fockers comes the much acclaimed Coen brothers flick True Grit.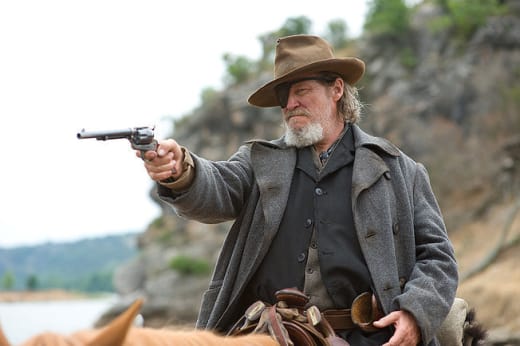 The film is the only holiday release to exceed expectations - grossing more than $86 million total, making it the highest grossing film for the brothers.  With a budget of only $38 million, the western surprised film-makers and distributors with its wide-spread appeal.  
Although popular 30 years ago, westerns haven't been a staple on the movie scene for quite a while.  But with directors like Joel and Ethan Coen, a revitalized Jeff Bridges coming off an Oscar win as its star, and a compelling storyline to entice audiences; True Grit had a pretty good chance at success.
Overall, ticket sales were down for the generally busy New Year's box office weekend.  According to Box Office Mojo, there was an approximate 27% decrease from last year's new years weekend.  Avatar was sorely missed.  
This years lackluster end to the year can be attributed to a few reasons:
Slim pickings - when Little Fockers wins the race two weekends in a row, you know something is off.
No Avatar - enough said.
No new weekend releases - although the holiday movies should be big enough to result in a better New Years weekend, it didn't help that there were no new wide releases to feast our eyes upon.
That being said, the numbers are comparable to the 2008 holiday season (sans Avatar) when Marley and Me held the top spot with $24.3 million.  Even without Avatar's boost, this year's blockbuster promises didn't live up to similar releases from last year.  
Sherlock Holmes ($36.6 million) beat out Tron: Legacy ($18.3 million) bringing in double the revenues over the same weekend.  
Rounding out the top 5 is Yogi Bear earning $13 million and Chronicles of Narnia: The Voyage of the Dawn Treader earning another $10.5 million.  Then list pretty much looks the same as last weekend - only difference Yogi and Narnia trading places. 
Little Fockers - $26,300,000

True Grit - $24,500,000

Tron: Legacy - $18,306,000

Yogi Bear - $13,000,000

Chronicles of Narnia: The Voyage of the Dawn Treader - $10,500,000