Adam Sandler is now officially a Hollywood star!  He just received his star on the Hollywood Walk of Fame in front of the West Hollywood Hotel.
Adam Sandler officially has star #2431 and was presented the honor by Hollywood Chamber of Commerce CEO, Leron Gubler and guest speaker Henry Winkler.
Sandler's daughters and wife were with Sandler for the honor.  His daughters Sadie and Sunny interrupted him multiple times saying, "I love you daddy."
The interruptions sparked Sandler to joke, "Let's here it for my kids, who are now showing that I cannot control them."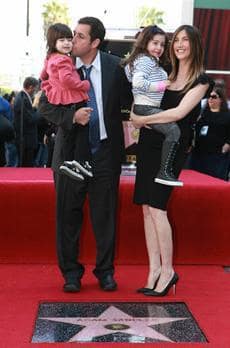 Sandler has had a 17 year career in Hollywood starting as a writer for 'Saturday Night Live.'  He then moved on to star in some big comedies like, Billy Madison, Happy Gilmore, and The Wedding Singer.
He recently starred in Grown Ups with Kevin James, David Spade, Chris Rock, and Rob Schneider. 
"This is a big deal," he said upon receiving his star on the Walk of Fame. "I feel honored and can't believe this has happened in my life."