Movie Fanatic had a chance to catch up with the very talented Tom Sturridge.  Sturridge appears in the indie-film Waiting For Forever as Will, alongside Rachel Bilson. 
He plays Bilson's childhood friend who doesn't seem to be able to grow up.  Will has been in love with Emma (Bilson) since childhood and is willing to wait forever for the love of his life.
The British actor talked to us about perfecting his American accent and what he looks for when choosing roles.
Waiting For Forever hits theaters in limited release on Friday February 4, 2011.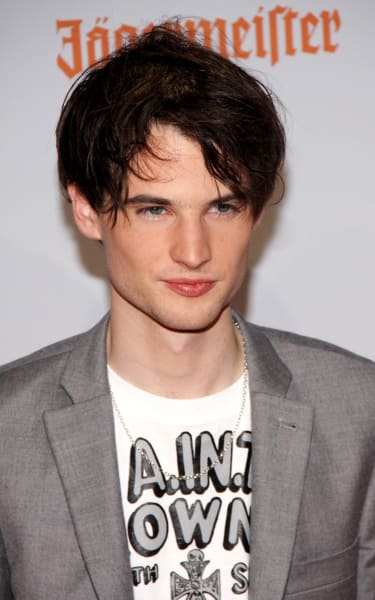 What encouraged you to take on the role in Waiting For Forever?
I think it was partly getting to work with the people involved. I'd just seen The Visitor, so working with Richard Jenkins was incredibly exciting. Scott Mechlowicz did a movie called Mean Creek which was one of my favorite films when I was younger. Working with Rachel [Bilson] was great. I thought it was interesting to do what is potentially a cliché classic boy/girl romantic film from the prospective from a complete weirdo.
What is your perception of Will?
My first thought is that he's someone who had this traumic event in his childhood and didn't evolve much from that point. I saw him as a child.
Your American accent is flawless, yet you're from England. How did you learn the American accent?
Just from watching American television. We're kind of submerged in it. I'm more likely to hear an American accent than a Scottish accent. Be it Tony Soprano or whoever. Just a childhood of watching movies and Friends, basically. [laughs] I wouldn't say it's easy, but I'm very used to it being in my ear.
Have you ever had a love like Will loves Emma and would wait forever?
Yes, I've definitely had love. As for waiting for forever, there's a famous Keats poem called "ode on a grecian urn", which is essentially about two lovers, and the image is them about to kiss. The poem is about the moment before you kiss. The good thing about waiting for forever is that the desire is always there and never quite climaxed.
What was your favorite scene to film?
I liked the end, juggling the fire. It was relatively cool end. I got home and I was like "yeah I just got done juggling fire". [laughs] I really liked working with Rachel. I liked the scene just between us, because it felt effortless.
How was it working with Rachel Bilson? Did you work on developing chemistry with her?
It was never something either of us worried about. I think if you have to work on developing chemistry you're already fucked. [laughs]. If you've got to go on chemistry development days, you're in trouble.
Talk about the chemistry of the cast.
It all stems with James [Keach] and his casting, and him putting these people together. In that way the chemistry is developed. It's inside the head of the man who chooses who's in the film.
Talk about filming On the Road. [Alongside Kristen Stewart, Sam Riley, and Garrett Hedlund]
We filmed in Montreal, New Orleans, San Francisco, New Mexico, Argentina. It was six month, and it was incredible. It was the most extraordinary working experience I've ever had. The combination of being a part of the people that get to bring that book to life and working with Walter Salles, who I think is one of the greatest directors living today, and working with the best group of young actors around at the moment. It was such an astonishing experience.
How did you feel when you were cast?
It was incredible, I felt incredible. It was the best feeling. It was the perfect casting moment. All of us auditioned for it almost 3 years ago, and about 4 months before we started filming, Walter summoned me to New York to have lunch with him and we had this long, incredible lunch over hours talking about the book and thoughts and ideas. At the end of the lunch he told me 'I want you to come on this journey with me'.
What types of roles will you be looking for?
That's not how my mind works. I'm more interesting in who I'll be working with. You can find something fascinating in any character, but what's hard is to find people who you admire to realize that. As for a collaboration with someone, I'd know it if I saw it.
Fans want to know: what is the story behind the duck sweater?
I like it. I found it somewhere. It's a bit cold so I wear a sweater sometimes.