Leonardo DiCaprio rides along on a old fashioned bicycle in this new photo from the set of J. Edgar.  DiCaprio plays the intriguing J. Edgar Hoover, the FBI director who was in charge during the investigation of the Lindburgh baby.  He's was also rumored to be a closeted cross-dresser.
With a star like Leo and a director like Clint Eastwood, this film is bound for huge success - perhaps Oscar success?
MTV Movie News got their hands on this exclusive photo courtesy of Eric Ford (On Location News).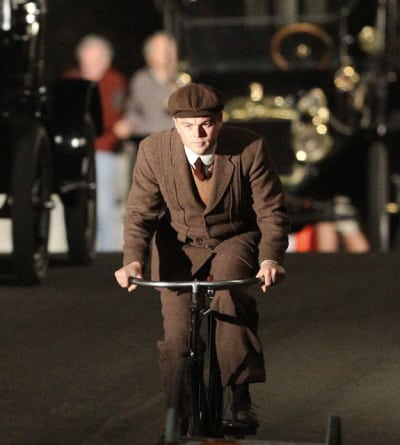 If you look closely you can even see Eastwood in the background.
Naomi Watts co-stars as Hoover's secretary, Helen Gandy, and Armie Hammer stars as Tyde Dolson, the man rumored to be Hoover's secret lover.