Get excited!  The teaser trailer for The Hangover II is expected to come out this week!
"We have a teaser trailer that I just finished color for yesterday night, so that'll come out next week," Phillips told MTV, "It's truly a teaser, so it might end up frustrating more than solving questions... It's just one of those things that's gonna make you go, 'OK, let's see what more they have.' It's to pique interest and to remind people what's coming down the pike."
In anticipation for the exciting debut, we have a new photo from the sequel for you to enjoy!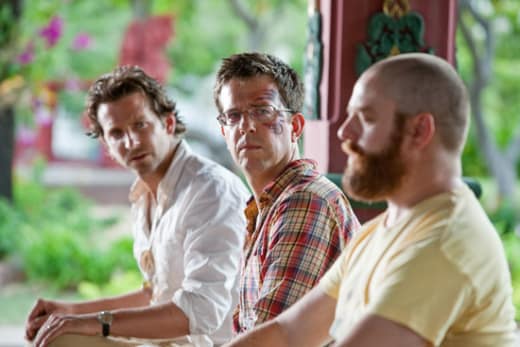 In the new sequel, Phil (Bradley Cooper), Alan (Zach Galifianakis), Doug (Justin Bartha), and Stu (Ed Helms) travel to Thailand for Stu's wedding.  Stu doesn't want a rehash of Vegas, so he opts for a safe brunch before the wedding.  Obviously when these four are together, the brunch does not go as planned and anything can happen.
The film is set to hit theaters on May 6, 2011.