Valentine's Day moviegoers overwhelmingly chose to see the rom com Just Go With It, starring Jennifer Aniston and Adam Sandler. 
The feel-good movie brought in an additional $6 million on V-Day, making it's grand total $36.5 million for the holiday weekend.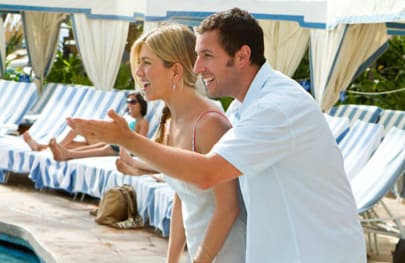 Gnomeo and Juliet - an appropriate Valentine's Day flick - came in at the number 2 spot with $2.7 million, making its four day total $28.1 million.
Justin Bieber: Never Say Never dropped out of the number 2 spot to the third film, making $1.8 million for the love day.
Here are the final Valentine's Day numbers:
Just Go With It - $6,000,000 (total: $36,500,000)
Gnomeo and Juliet - $2,700,000 (total: $28,100,000)
Justin Bieber: Never Say Never - $1,800,000 (total: $33,100,000)
The Roommate - $1,600,000 (total: $27,400,000)
No Strings Attached - $1,500,000 (total: $61,500,000)