Just Go With It came out on top with Justin Bieber inching extremely close to the weekend favorite.  All that marketing paid off for Never Say Never, the film brought in an impressive $30.3 million. 
Bieber Fever was out in full force this weekend - either those teenie boopers are a taking over or Bieber ended up appealing to a much wider audience than expected!
Overall, there was an 84% increase in ticket sales from last weekend - quite a hefty jump!  Although Valentine's Day could be the main reason for the big increase.
The number one movie Just Go With It slid into the top spot with $31 million, barely beating out the teen sensation.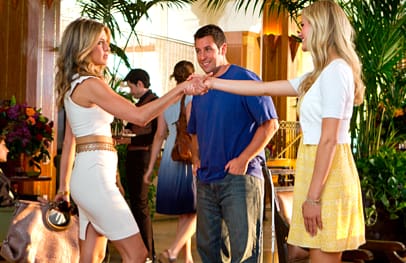 Gnomeo and Juliet has a pretty good run this weekend as well - the gnomes managing to come in third place with $25.5 million.
The King's Speech is still going strong, bringing in another $7.4 million and coming in at the number 6 spot - considering it has been in theaters for 12 weeks now, it's still doing amazingly well.
With Valentine's Day, the weekend films are expected to bring in even more revenue on Monday night.
Just Go With It - $31,000,000
Justin Bieber: Never Say Never - $30,260,000
Gnomeo and Juliet - $25,500,000
The Eagle - $8,589,000
The Roommate - $8,400,000