Christian Bale was a sure-fire to win the award for Best Supporting Actor this year.  And he did it!  See what he has to say about winning the award and losing all that weight in the Oscar press room.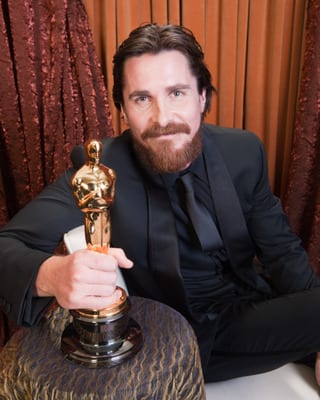 On what his Oscar experience taught him about himself: It's just a genuine thing, you know, I'm so flattered when anybody, any person, you know, any one person who walks up to me and says that they were really touched by a performance, I really adore that.  I really love hearing that, you know.  I mean, what we do becomes so much bigger than ourselves and I appreciate that so much.  And I've been in China.  I just got back the day before yesterday, I've not been a part of any of the campaign that's been going on.  And just to get back and then hear people tell me how much it means is just wonderful.  That's what you're hoping for.
On whether he'll still play Batman after winning an Oscar: When I finish the movie in China it's straight on to Batman.  So absolutely, much more Batman.
On what he went through to lose weight for the role: I just like the character and it wasn't till a little bit later I said, oh, he's a welterweight, he's a crack head.  How many fat crack heads do you see?  Then I realized, that's what I have to do.  So it came later just by that point, you know, like I always say, I saw something and this has always been    I didn't really ever take acting classes.  I didn't go to drama school or anything.  I always feel like I'm having to make up for that while other people know where they're going really and I'm just sort of winging it.  I saw something one time, it was Jimi Hendrix, and I just adore the guy's talent and just raw ability to just communicate through his guitar and I saw something about his fingers just bleeding, just blood dripping off of the strings and I always went, that's it, that's it.  You know, that inspires me to no end.