Colin Firth talked backstage in the Oscar press room about the film and what he plans to do next.  Firth was his charming self with the backstage interviews.  Here's some highlights.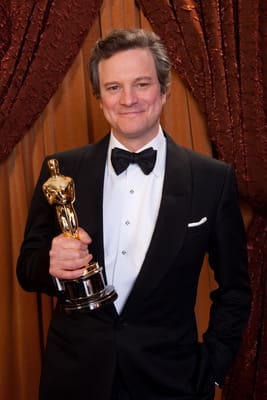 On if he's going to the Royal Wedding: As I understand it, the invitations have already gone out. Mine's almost definitely lost in the post somewhere.
On what message The King's Speech sends out: I don't believe in messages in what I do.  I don't think we're preachers.  I don't think we're philosophers... What has struck me is the emotional response to it seems to be very, very personal.  It's quite diverse. 
What does he think of the re-edited PG-13 version:  I don't support it.  Because I think the film has its integrity as it stands.  I think that scene belongs where it is.  I think it serves a purpose.  I'm not someone who is casual about that kind of language.
What will he do now with all his free time?: I think I'm going to cook a lot.  I don't think I'm particularly good at it but I'm going to inflict my cooking on anybody within range, but I tend to find that's a very good way to decompress.  I'll probably be the only one eating it but that's what I'm going to do.