Melissa Leo has been on the Hollywood scene for year.  She finally got recognized for her role in The Figheter.  Check out some of the highlights backstage from Leo's interviews!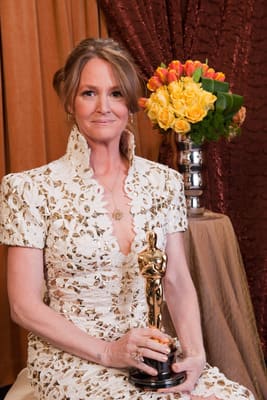 On dropping the F-bomb during her acceptance speech: Those words, I apologize to anyone that they offend.  There's a great deal of the English language that is in my vernacular.
On the real-life woman she played, Alice Ward: Well, the dress I'm wearing tonight I'd like to think that Alice would have liked it, and that was part of the choosing for it.  She is a manager of her sons, was caught on camera quite a lot at the edges of the boxing ring, and I noticed a lot of the footage of Alice at the fights had her in white.  Might not be so true anymore, but I think back in the days of black and white, it showed up well on camera.  So that was some of the thought into it and into being here tonight.  Alice, I did have the opportunity to meet.  I could not have played her without having met her.  I wouldn't have even know where to begin in many ways.  The external part of Alice was Mark Bridges, the costume designer, and David O'Russell encouraging the hair department to cut my hair shorter and shorter and dye it and all of that.  But no, I don't know that Alice's sense of style and my sense of style are too similar in too many ways.
On Kirk Douglas stretching out announcing the winner: You know, it's really funny, you know, because he's an old actor.  If anybody is an actor, he's an actor, right?  And actually, he was doing us all this huge favor, because the longer he strung it out, the calmer I got to be.  I got to take more than one glance over at Amy, who was sitting just in front of me away from where he was, I wanted to watch him because he was delightful to watch and I wanted to peek at Amy, so he strung it out in a rather delightful way for me and actually allowed a heart rate that had gotten fairly high as the category was announced to settle a little bit and wait and see what the envelope said.
When asked about her controversial Oscar campaign: There's nothing to vindicate, and there was no campaign.  It was a photograph in a magazine; I wanted a pretty photograph in a magazine, that's all it was.