Natalie Portman was the belle of the Oscar ball.  All eyes were on her and her growing belly - will she win, what will she wear, and who will she thank?  We heard it all during the Oscar ceremony.  Now we have some insight into what she said backstage.
Check out the hightlights!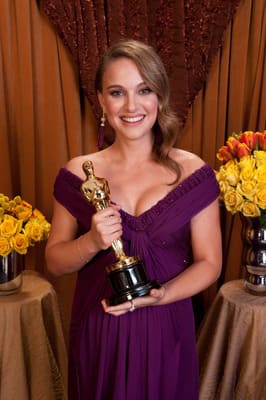 When asked how it feels to win an Oscar: Yes, it feels very, very dreamlike right now.  I don't really know where I am.
When asked how her baby was during the show: I don't really remember anything that happened. But the baby was definitely kicking a lot during the song portion of the show, a little dancer.
On how [director] Darren Aronsfsky and [boyfriend] Benjamin Millepied helped her with the role: Darren, I think it's only possible to give yourself so freely when you absolutely 100 percent trust the person you're working with as your director, because they are responsible for everything.  In film it is absolutely a director's medium and you are completely subject to their artistry, and Darren's artistry is so extreme that I really felt free to try anything.  And Benjamin similarly.  You know, I think to be believable as a dancer, I just trusted in him fully to be honest with me, to choreograph in a manner that best flattered what I could do and best avoided what I couldn't do, and really was catered to making it believable.  And he was absolutely the key to credibility for the film, and that was fully on his shoulders.
On what's next: The next dream I have in terms of very short term future is staying in bed, not having to do my makeup or hair, and keeping my sweats on, relaxing.