In an interview with Entertainment Weekly, Oscar producer Bruce Cohen gives away a few secrets for the big day.  He says the co-hosts had an instant chemistry the first time they met, which was during the filming of the promo ad, by the way.
"That was their instant chemistry that they fell into," he tells the magazine, "and we immediately seized on that and are writing it into the opening and the show. They really play very well off of each other.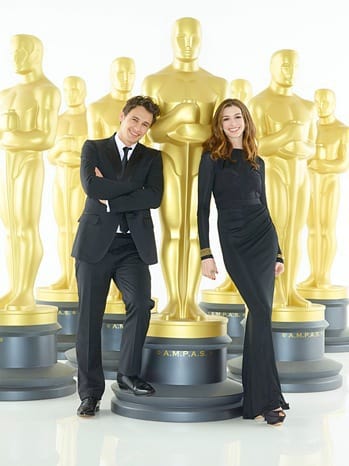 When asked about the opening number, Cohen didn't give much away, but did admit that it will be a combination of filmed and live elements, which will also be featured throughout the entire show.
"We have these highly-complicated scenic transitions that we're using to tell some of the great moments in film history and Oscar history." Cohen admits. "There are about six or seven times in the show when we're going to metaphorically leave the stage of the Kodak today, and the stage is gonna transition through lighting, music, sound, and set back to an old movie, a classic performance, an event, a time period."
He also gives away one of the celebrity presenter pairings, saying Russell Brand and Helen Mirren will be presenting together onstage and it's been tough to write the dialogue for the pair.
Sounds like it's going to be quite an entertaining show and a interesting departure from previous years.
The Oscars will be televised live on ABC February 27 at 8ET/5PT.