This year's Oscar ceremony didn't have too many crazy moments.  In fact, a lot of people are saying it was quite boring.
Let's start with the hosts.  Overall, the ceremony was pretty similar to previous traditional ceremonies - nothing too out of the ordinary, even though the hosts were the youngest in Oscar history.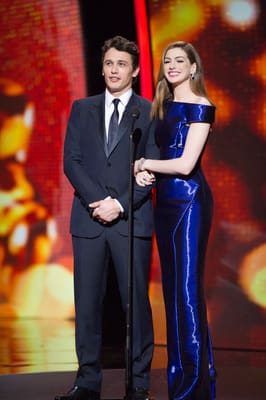 Many critics said co-host Anne Hathaway was trying to hard, but I actually liked her up on that stage.  It wasn't trying to hard, it was trying to compensate for her deadbeat co-host James Franco, who looked like he would rather be anywhere else.  Take some advice James, when you are hosting the biggest night in Hollywood alongside your peers, try to look a little interested.
The Hollywood Reporter even commented that "Franco seemed distant, uninterested and content to keep his Cheshire-cat-meets-smug smile on display throughout. This year, the Oscars hit a new low. Like it fell into a hole."