The Oscar hosts are gearing up for a big night this Sunday!  Anne Hathaway and James Franco will be our lovely hosts for the evening, but don't expect any laughs a la Ricky Gervais.
In a recent interview with The Hollywood Reporter, the two young hosts talk about their big night - everything from who Hathaway voted for (she wouldn't tell) to why they won't be hitting below the belt.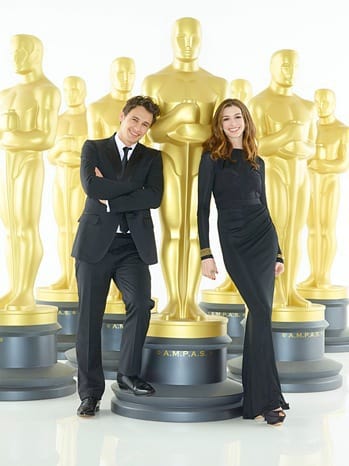 When asked if Hathaway voted for her co-host in the Best Actor category, she wouldn't give anything away saying, "I'm a big fan of James's performance."
She also reveals why the two will not be singling out any fellow actors on the big night with any Ricky Gervais-esque jokes.
"I can guarantee that if you're looking for someone to call people out, we're not your hosts," Hathaway told the mag. "I think that humor is really difficult to pull off, and I'm not particularly adept at it. I wouldn't feel comfortable doing it.

"Also, I don't mean to sound overly serious, but I am the youngest host in history and I have no business being cynical or calling anyone out. I certainly haven't earned the right to do that."
The Academy Awards will be presented live this Sunday at the Kodak Theater in Hollywood.  ABC will also telecast the awards live at 5 PT/8 ET.