Something Borrowed has an official poster!  Many fans of the novel by Emily Giffin are excited to see the film come to theaters this year. 
You don't have to wait too much longer for a sneak peek - the trailer is set to debut tonight on Entertainment Tonight.
We will have the trailer for you as soon as it becomes available. 
For now, check out the poster for the film, starring Kate Hudson, Ginnifer Goodwin, John Krasinski, and Colin Egglesfield.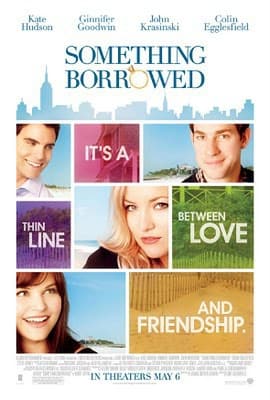 The film tells the story of Rachel who is always in the shadows of her best friend Darcy.  On the night of the 30th birthday, she finds herself in bed with Darcy's fiance Dex, whom Rachel has been in love with for years.  Friendships are tested as Rachel continues to see Dex and struggles with her loyalty to Darcy.
Something Borrowed is set to hit theaters on May 6, 2011.