The new issue of Entertainment Weekly features an all new interview with Superman himself - Henry Cavill.  The actor caused quite a stir when he got cast as the leading man in Zack Snyder's new highly anticipated adaptation of the famous superhero.
The magazine talks to Cavill about everything from his audition process to when he found out he got the part.
Cavill admits he was nervous to see if he could fill out the iconic suit during the auditions.  He had just finished a film that required him to lose his abs and amazing body.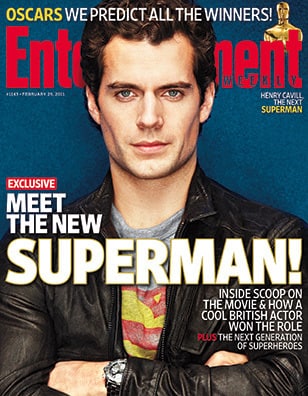 "All I could think was: Oh, god. They're going to look at me and go 'He's not Superman. Not a chance,'" Cavill tells the mag. "The actor inside me was going: You're not ready! You're not ready!"
Snyder recalls a very different reaction to the audition.
"He walked out, and no one laughed," says Snyder. "Other actors put that suit on, and it's a joke, even if they're great actors. Henry put it on, and he exuded this kind of crazy-calm confidence that just made me go 'Wow.' Okay: This was Superman.'"
Sounds like Cavill is going to be a great superman!
The new Entertainment Weekly is on sale now.