Valentine's Day is here and romance is in the air!  Planning on staying in tonight to celebrate this special day with your sweetheart?
Check out our list of top 10 romantic movies to help you get in the mood and celebrate this love filled day... with help from Hollywood.
This was not an easy list to narrow down - Hollywood knows how to play up the romance.
And to all you singles out there - you can always curl up with a good romantic movie too.  Or perhaps a slasher film?  We won't judge.
What's your favorite romance movie?
Check out our list after the jump!
TOP 10 ROMANTIC MOVIES OF ALL TIME
#10 - Dirty Dancing
This 1987 classic dance film was all about the chemistry between the two main characters.  Patrick Swayze and Jennifer Grey as Johnny and Baby lit up the screen with their forbidden love just as much as their dancing.  "No one puts baby in the corner..."
#9 - The Curious Case of Benjamin Button
People might wonder why this one is on the list, but the epic romance between Brad Pitt and Cate Blanchett is just devastating.  As Benjamin continues to grow younger, Daisy stubbornly ages, causing a rift between these two lovers.  The film is engaging and heartbreaking all at the same time.  It's truly a love that lasts a lifetime.
#8 - The Princess Bride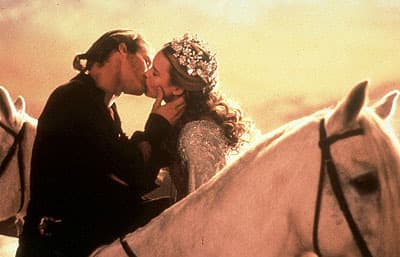 The classic tale of everlasting love is explored in this classic love story with great action, fantasy, and a serious case of mistaken identity.  You'll be rooting for Buttercup and Westley right from the beginning.  It also features a very young Robin Wright as Buttercup - blast from the past!
#7 - Notting Hill
Notting Hill brings together two great actors - Julia Roberts and Hugh Grant. It's a mixture of comedy and sweetness as the unlikely pair navigate the world of fame vs. normalcy.  The two have a great chemistry as Anna Scott and William Thacker and it makes for a great feel-good romantic comedy.

#6 - Pride and Prejudice
Jane Austen's classic British literature is played out on the big screen flawlessly by Keira Knightley as Elizabeth Bennett and Matthew McFayden as Mr. Darcy.  The film is all about first impressions and letting those impressions get in the way of seeing the real person underneath.  The two take quite the journey before discovering they really are in love.  
#5 - A Walk to Remember
A perfect portrait of young love is portrayed in this adaptation of Nicolas Sparks' sappy romantic novel.  The film stars Mandy Moore and Shane West as Jamie and Landon.  Landon is a bad boy who is reformed by Jamie's love and patience.  Jamie warns Landon not to fall in love with him, which he assures her he will never do.  You can guess what happens next.  You might need a couple boxes of tissue for this one!

#4 - Love Story
Love story is a classic!  Starring Ryan O'Neal and Ally McGraw as star-crossed lovers from two very different backgrounds in the 1960's.  When Oliver Barrett IV is threatened to be disowned, he must choose between love an obligation.  The film shows many different sides of love and it's not all sunshine and roses.  But the films message is clear:  "Love means never having to say you're sorry."
#3 - Moulin Rouge
Another tear-jerker starring Nicole Kidman and Ewan McGreggor as Satine and Christian.  Satine is a courtesan who is being forced to marry the Duke in order to support the Moulin Rouge, yet she falls in love with the penniless writer.  Set to a back drop of classic songs repurposed, this film is a classic love story in an unusual setting.  It is the story of a "love that will live forever."
#2 - Casablanca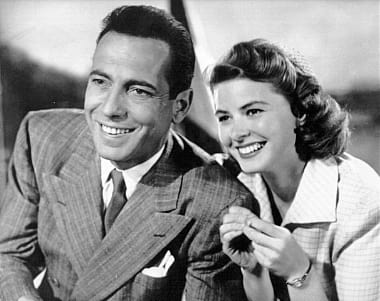 A classic love story starring Humphrey Bogart and Ingrid Bergman in a heartbreaking story about choosing what's best for yourself or the one you love.  Bogart plays Rick Blaine, a bar owner, who is forced to choose between being with the woman he loves or heloing her escape with her husband, during WWII.  The flashback scenes alone will have your heart racing. "Here's looking at you, kid."
#1 - The Notebook
If you ask 100 women what they think is the greatest romance movie of all time, many will agree - it's The Notebook.  The film could have been a complete flop - overly sappy and ridiculous, but the chemistry between Rachel McAdams and Ryan Gosling is through the roof and makes this film one of the greatest love stories ever to hit the big screen.  Allie is a rich city boy who falls in love with poor country boy Noah.  They are separated by years, but find their way back to each other in an epic rain-kissing scene.  All notions of kissing in the rain are completely ruined by this movie.
WHAT'S ON YOUR LIST?  HAVE YOUR SAY!