Vanity Fair has just released images from its 17th annual Hollywood issue.  The magazine features Oscar hosts Anne Hathaway and James Franco on the front cover, along with Ryan Reynolds and Jake Gyllenhaal.
Unfold the cover and you see 11 more of Hollywood's elite.
The magazine says the concept was meant to feature "the most exciting actors and actresses of the moment," with ages ranged from 80 to 20.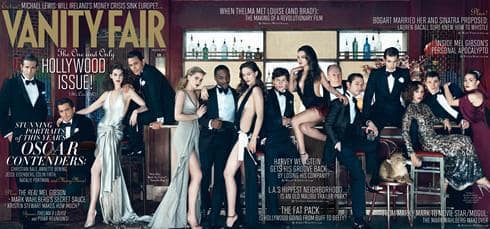 "We wanted to evoke the glamour of 1930s Shanghai, an era of smoky, alluring elegance," says fashion and style director Jessica Diehl.
This year's cover is being criticized for not including people of various races before the fold.  Last year, similar criticisms were made about the issue because only white women were featured.
The March Hollywood Issue of Vanity Fair hits newsstands in New York and Los Angeles on February 3, and nationally on February 8.
Can you name everyone in the spread?
Test your knowledge and then check out the full list after the jump.
The complete list from left to right: Ryan Reynolds, 34; Jake Gyllenhaal, 30; Anne Hathaway, 28; James Franco, 32; Jennifer Lawrence, 20; Anthony Mackie, 31; Olivia Wilde, 26; Jesse Eisenberg, 27; Mila Kunis, 27; Robert Duvall, 80; Joseph Gordon-Levitt, 29; Andrew Garfield, 27; Rashida Jones, 34, Garrett Hedlund, 26, and Noomi Rapace, 31 (the original Girl with the Dragon Tattoo).