There are so many Snow White remakes happening right now, it's hard to keep them all straight.  Armie Hammer is the latest to land a role in one of them.
He will play the prince in the Relativity Media version - The Brothers Grimm: Snow White.  It's the one with Julia Roberts playing the evil Queen, NOT the Kristen Stewart Snow White adaptation.
Julia Roberts was previously confirmed to play the evil stepmother/Queen and Hammer will join her as Prince Andrew Alcott.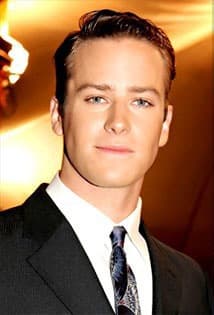 This telling of the famous fairytale will go down the more traditional road, telling the story more closely to the Brothers Grimm version in favor of a modern tale.
After her evil stepmother kills her father and destroys her kingdom, Snow White joins forces with a group of seven dwarfs to reclaim her castle.
No word on who will play Snow White yet, but shooting is set to start in May.
The Brothers Grimm: Snow White is set to hit theaters on June 29, 2012.