There has already been a sequel to the successful film Dumb and Dumber, starring Jeff Daniels and Jim Carrey, but it wasn't anything official.  The Farrelly Brothers were not involved with the sequel that bombed.
Now the brothers are talking an official sequel to their successful hit.  In a interview with Moviehole, Bob Farrelly hinted at the possibility of a sequel.
"If we could get those two guys back together, Jim Carrey and Jeff Daniels that might be a worthwhile sequel — and that ball is in motion. We're starting to think about what those two dimwits would be doing 20 years later in life, and hopefully we'll be able to come up with something worthy of a sequel."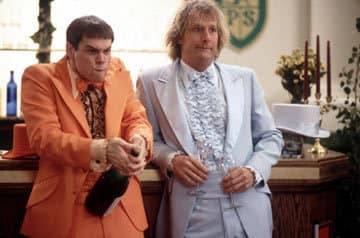 Entertainment Weekly confirmed the interview, recently talking to the Farrelly Brothers' rep who said everything is definitely coming into place for a sequel.
What do you think of a sequel featuring Daniels and Carrey 20 years later?  Are they too old or would you tune in to see what they're up to?