Zachary Gordon is your average 13-year-old, but he has a really cool job!  Diary of a Wimpy Kid: Rodrick Rules is his current movie and it hits theaters nationwide tomorrow - March 25.
Movie Fanatic had a chance to catch up with the young star during his press tour for Diary of a Wimpy Kid: Rodrick Rules. We talked about everything from girls to his exciting trip to Serbia.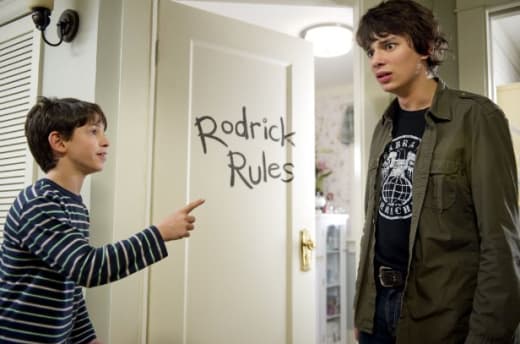 Zachary stars as Greg Heffley in the film. This is his second time playing the main role in the Diary of a Wimpy Kid franchise. This time, Greg has to deal with the crazy antics and bullying from his older brother Rodrick.  Rodrick (Devon Bostick) plays some pretty mean tricks on Greg.  Does Greg have what it takes to stand up for himself or will he forever be a wimpy kid?
So, what's Zachary's favorite part of being on a movie set? 
"Probably the people and the amazing experiences you get to have."
He's also loves playing Greg because its such a challenge and he's not like the character at all in real life.
 "I mean he's manipulative and he really takes advantage of people and I'm nice and I have a lot of friends, so I would have to say it's really fun trying to be Greg and give my best impression of him."
Check out the rest of the interview after the jump.
You have played the part of Greg Heffley in two movies pretty much back to back.   This one exactly one year later. What do you like most about playing Greg?
What I like most about playing Greg is probably how challenging it is for me because I'm really not like Greg in real life, I mean he's manipulative and he really takes advantage of people and I'm nice and I have a lot of friends, so I would have to say it's really fun trying to be Greg and give my best impression of him.
You get bullied a lot in this one by your brother Rodrick, played by Devon Bostick.  Have you had any experiences with bullies in real life?
Thankfully, I haven't.  I'm really fortunate, I haven't been picked on at all in school.  Really no one in my school gets picked on or called names, but I might have to say, when I was younger, my brothers used to bully me and stuff.  I mean, we're brother, right?  My brother's didn't do as bad of things that Rodrick did to Greg in the movie, but what's bad with Greg is that Greg really can't defend himself, but now that I've gotten older, my brother really don't torture me as much as they used to and I can defend myself.
What was your relationship with Devon Bostick (who plays Rodrick) like onset?
Devon really was like my brother offset.  We had so much fun and especially when we were filming a scene in the movie when coach Malone chases Rodrick and Greg into a mall and it was really fun because in between takes, Devon didn't really want to play hide and seek, but it was always my dream to play hide and seek in a huge store, so Devon played with me.  He's like my brother on and off screen.
You shot the movie in Vancouver.  What did you like most about Vancouver?
My favorite part of Vancouver was probably – we went to this place called Grouse Mountain and I went ziplining there.  So crazy, I went twice.
Did you go to Whistler? That's one of my favorite places.
No , it got to be the last week of filming, so we didn't really get time to go up there, but hopefully if we do a Wimpy Kid 3, maybe we can stop by Whistler.
You have a bit of a crush in this movie – on Holly.  What kinds of things do you do in the movie to try and get her attention?  And do they work?
In the beginning of the movie, everybody comes back from the summer and Greg spots this new girl who he really loves and really has a crush on.  Then Rodrick says if you really want to get to know her and dance with her, every hour they have a roller rink dance and she'll have to say yes, but what happens is Rodrick tricks Greg and instead of having a slow song play, they have this rocker song and all the skaters who have been waiting till later on – all the kids get off the rink and all the really bad skaters get on.  And Greg is really mad at Rodrick.
I was really embarrassed filming that scene because then my dad had to come and carry me out.  I really don't skate well, so I couldn't make it to the end and my mom just screams out "Greg, don't worry you'll be okay, your father will rescue you!"
Well that's really embarrassing!
I know right!  Good thing that doesn't happen to me in real life.
Did you learn anything from Greg about how to get girl's attention?
Eventually, but I don't know, maybe.  Maybe the how to not get a girl.  But I'm into that stuff yet, not till high school.
You have done a lot of voice overs.  How is that different to actually acting and how is it the same?
The difference with that is, with both you still have to act, but with voiceover you can just wake up in the morning and even just come in your pajamas.  You don't have to do hair and makeup and wardrobe, like you do in an on camera film.  And a really big difference with that too is I love to see myself on screen, but the problem with voiceover is that you just see a character, but it's cool to see your voice voicing over the character as well.
What's your favorite part about working on a movie set?
Probably the people and the amazing experiences you get to have.  It's a once in a lifetime chance and I mean, it's interesting because it's also a lot work, you have to travel a lot and you have to study your lines and everything, but it's a lot of fun and I give up a lot for it.
What's next for you?
I'm in New York right now doing press.
What's your favorite place you've been too now that you've gone all around the world?
I did a movie three years ago called The Brother's Bloom and it was one of my first movie's.  I went to Serbia for that and it was amazing to see the lifestyle they had there and just the people. There's so many homeless people there, unfortunately.  It really makes me realize how fortunate I am.
Do you have any other movie roles in the near future?
Well I am in public school still, but there are some projects that I am in right now and I really can't discuss them, but eventually when they become announced, I'll be able to talk about them.
Diary of a Wimpy Kid: Rodrick Rules hits theater March 25.