Margarita Levieva recently caught up with Movie Fanatic to dish about her role in The Lincoln Lawyer, opposite Matthew McConaughey and Ryan Phillipe.
Levieva plays a key role in the film - she is the woman who accuses Phillipe's character of rape and is subsequently the catalyst to all the events that unfold after.
The actress talks about playing a prostitute, how she prepared for the role, and what it was like to work with McConaughey and Phillipe.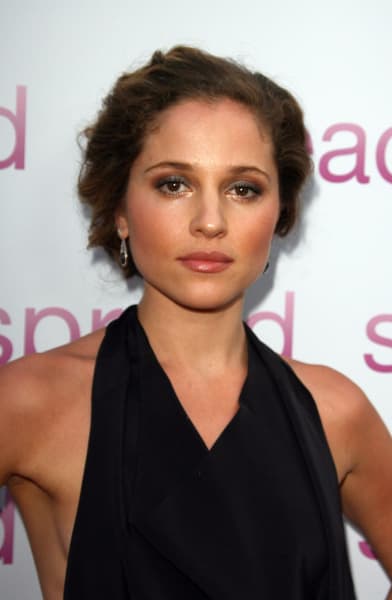 When asked why she chose to play this particular role, Levieva explains, "She has a very specific arc, it's a very emotionally charged character. You see both sides of her which is fascinating to me, I'm not a fan of one dimensional characters"
Her serious take on acting and the way she prepares for her roles come out in this interview.  Check out the rest of the interview for this rising young actress.
The Lincoln Lawyer hits theaters March 18th.
Talk about your role as Reggie in The Lincoln Lawyer?
The movie centers around Matthew McConaughey and Ryan Phillipe but it is about this case and Reggie is at the center of the case. She's the female who's accused Ryan's character of beating her up and attempting to murder her. She's the one who gets away. Reggie for me was such an incredible character to play because she's a prostitute, but at the end of the day she's a survivor. She gets an opportunity to go up and testify against Ryan Phillipe's character. It's unclear in the story whether he did it or not, but obviously Reggie believes he did, even though that's not necessarily a truth.
One of the things that drew me to this role is that I got the play both sides of a female. She's this very sexy, predatorial creature that is doing her job, essentially. Towards the end of the film we see another side of her: a beaten down, open female who is fighting for her life.
Did you do any research to get into the mind of a prostitute?
I definitely did research; I do a lot when I work. The age of technology was very helpful. I was very curious about these women that go meet men, because Reggie's not a street hooker or a high paid classy escort, she's somewhere in the middle. I think it's mentioned in the film she makes around $400 an hour. I was shocked to come up with the information and how accessible it is. In the film, she has a website that advertises her services, and that's how Louis finds her.
Before making the film I didn't know much about this industry, and I didn't think it was plausible. When I looked on the internet I saw that there were thousands of these websites where women advertise their services and have photos and things that they're talented in or special services that they have to offer that are different from other girls. I had no idea, when I first read that I didn't believe it existed. They're literally ads for themselves. There's a ton of websites that have all of these girls, and it's almost like going into an agency site that has actors, like here are the people we represent, their skills, let us know if you want to hire them.
Why did you choose this type role?
Certainly, because she's a very layered character. She has a very specific arc, it's a very emotionally charged character. You see both sides of her which is fascinating to me, I'm not a fan of one dimensional characters. Also of course, I was a fan of Brad Furman as a film-maker and finding out the full cast who was attached, it's a pretty incredible cast. I was delighted to be a part of it.
How was it working with Brad Furman?
It was amazing. He's an actor's director. He sees a lot of truth, which I appreciate. He's also great at picking out the moment where the actors not being truthful. There were a few times he'd come up to me and tell me 'I see too much Margarita in this, I don't think Reggie would do that', and I completely agreed. He's also fun to work with, which is nice. Most of my scenes were the beating, and we actually had to shoot that, the whole fight sequence. He kept the whole environment light and made it fun.
How was it to work with Matt and Ryan?
I'm super grateful that I got to work with them. They're great actors and partners to act opposite of. Very, very prepared and professional, and very creative. It was exciting to be in their company when they turn on their characters, who are very much different from themselves. They both took this took and really, really gave it their all. Ryan was so serious during rehearsal, he constantly stayed in character. The passion of the piece and the emotions were constantly brewing inside of them.
Had you read the novel before you booked the role?
I have this thing that I don't usually read the piece that it's based it. It's a personal choice. I was planning to read it, but there was a part of me that was never drawn to it. I wanted to create my own character, not base it off of the novel. I wanted to make sure I had my own take on it.
Would you ever hire a lawyer working out of his vehicle?
[laughs] If he was really good. If he was Matthew McConaughey I would hire him, even if he lost the case. [laughs]