Michael Arden is known for his extensive Broadway work, but he is now getting into films and television.  His most recent movie is Source Code, starring Jake Gyllenhaal and Vera Farmiga. 
Movie Fanatic caught up with the actor to talk about his most recent work as Derek, a suspected bomber on a Chicago train.
We still don't know who the bomber is -- and Arden isn't giving anything away.
"I don't want to give too much away, but I think Derek has a certain view of the world and he feels like he needs to change it in a way," Arden offers. "It can be conceived as insane, but he sees it as a very simple act of cleansing the world of what he's meant to do" 
Hmmm...intriguing.  To see if Arden is the bomber catch Source Code in theaters this Friday, April 1.
Read the rest of the interview below.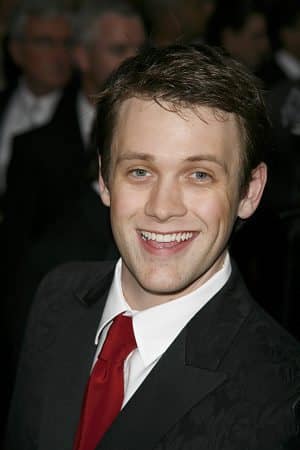 I know every passenger has a story. Talk about your character Derek.
I don't want to give too much away. But I think Derek has a certain view of the world and he feels like he needs to change it in a way. It can be conceived by many people as insane, but he sees it as a very simple act of cleansing the world of what he's meant to do. He could be completely certifiable, but I couldn't think of that. [laughs]
What was your impression of the script?
I thought it was really exciting. I didn't know what was coming from one page to the next. I found it quite suspenseful. I think what I was most struck by is that it really raises some interesting moral questions in terms of what power government plays and people play in the lives of its subjects and soldiers. It also raises questions of what's right and what's wrong in terms of when a soldier signs his life over to a military. Do they also sign all of the rights after they die?
It brings a human element of: when is service enough service? How much-even if it's being used for good-should you be able to tamper with someone's mind in this world that the writer created? I think the audience will reevaluate their moral responsibility.
You think about even just using Google and you can enter the wrong thing but it knows what you wanted to look for. These sites begin to know you and make decisions for you. In watching the movie, this was a world in a reality that didn't seem too far fetched.
How was it shooting scenes on a train?
We shot on a soundstage on this amazing full sized train car that moved on hydraulics surrounded by green screen. What was really funny about it was the rocking motion back and forth, after a few months being on it everyday, when you get off you feel like you're still moving. It was an exciting process because we were all on this train car for a long period of time. The movie repeats and repeats and repeats and slightly varies, so it was wonderful to really get to know different people on the train. By the end we really felt like a little family on the train. We had jokes and stories.
 Was it strange re-shooting the same scenes?
 Yeah, it was strange. You had to recreate each moment again and again with slight variations you had to be attuned to. From letting things that happened differently effect you in a different way. A door opened a different time or someone bumped into you, you're starting your directory from the time before but it moved you to a different direction, it's a great acting exercise. By the end of the month on that train, it was like doing the same thing over and over, we were all going a little bit crazy by the end. [laughs] The continuity and script supervisor definitely had their work cut out for them. The film only takes place in 8 minutes of time repeating over and over.
 How was working with Jake and Michelle?
 Wonderful; they're both such fine, available actors. I worked near Michelle, but we didn't have any scenes together. She was wonderful to watch. She's one of those actors who opens themselves up onscreen. Her eyes are like pulling back band aids and letting you see inside of her. It's beautiful to watch. Seeing how that translated on screen was really incredible. I was really lucky to watch her and learn from her and see how available, uninhibited and open she was in each and every take.
Jake's such a pro, and so smart. He's aware of everything throughout the whole script. He'd be like 'well in the first scene you're not in it but the guns facing this way in his pocket'. He's such a smart actor and knows what's going on in every department and every moment. You can tell he puts so much work and time and effort into thinking about his character and the action of the film. It's really a testament to his background. He's made so many great films. He brings all of that to each project. He's also very giving. I had a great time filming my scenes with him. He's very helpful and I felt very safe, like I could try anything. It was great experience working with both of them.
 Talk about working with director Duncan Jones?
 He's incredible. He has such a vision for tone and feeling and I think people will be surprised and excited by this one as well. He knows what he wants the audience to feel at certain moments, like tension or humor or fear. He's able to create an environment behind the camera, with his wonderful editor Paul Hirsch, who is a legend, he edited Star Wars. He's working with the best, and you can see he's putting together something very specific, like he's performing surgery the entire time and at the end it's like you've gotten a transplant and you don't even know it. He's very attuned to the moment and music. He's very specific with the score, which was beautiful. He let us play in this playground he set up. It comes off as very alive.
 Colter continuously goes back in time to correct something. If you could go back, what would you fix from your life?
 Oh goodness. That got really deep. [laughs] I think if I changed anything in my past I wouldn't be here now. I'm thrilled that I've had the experiences I've had, it makes me the complex creature I am. I'm really lucky to be where I am now.
 What else do you have in the works?
 I just finished doing a play on the west end. I'm about to be on this show called Off The Map on ABC, I'm on there for a few episodes until the end of the season. I've also been filming a movie called The Odd Life of Timothy Green, which is going to be really great. I also have a new movie called My Eleventh.