Russell Peters has come a long way from starting out in comedy in Toronto. He's now starring in big blockbuster movies. 
In his latest film, Source Code, Peters plays one of the suspected bombers in the upcoming thriller.
Movie Fanatic caught up with the Canadian funnyman to talk about his role.  We got the scoop on what it was like working with Jake Gyllenhaal and Michelle Monaghan. 
The comedian also talks about his upcoming DVD based on a performance in London.
Check out the rest of the interview below.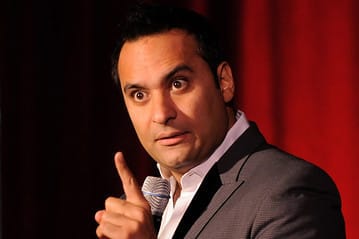 Source Code hits theaters this Friday, April 1st.
 Tell me about your role in the film.
Besides Jake [Gyllenhaal], Michelle [Monaghan], Vera [Farmiga] and Jeffrey [Wright], everyone gets the same amount of face time on screen. The end of the movie, they did this thing with me...the movie ends on me entertaining the train and a cut away back to Jake and Michelle. I think I've said too much already.
My character is a guy named Max Denoff. He's a comedian on America's Got Talent and he's got two DUI's, so he's a bit of a loser. He's on the train and he's angry because he's a losing comic. I had a good time playing him.
What part does Max play in the mission?
Basically everyone on the train is a suspect. All of the passengers are suspects, so I am as well. They wrote it so well that you don't know who the villain is. It'll have you feeling the suspense.
What was your impression of the script?
I'm not a big reader, and I'm not normally good at reading scripts. But when I read it I was like 'wow'. It was very compelling, I couldn't put it down.
How was it working with Jake?
Jake was really cool. For a big movie star guy, I was expecting attitude, but he was very chill and cool.
How was it working with Michelle?
Michelle was great. She's from Iowa so she's what you expect. She's normal and nice and well adjusted. Her baby and husband were on set; all very nice people.
Did you enjoy working with director Duncan Jones?
Duncan was great, I was all excited because first he's David Bowie's son, and I love David Bowie, and second of all I have known that it's such a good film. You would expect someone who grew up with a father like David Bowie to have an attitude. Again, very chill, normal, and cool. It was all very pleasantly surprising.
How is your comedy coming along? Anything new coming out?
I have a DVD coming out in May. We recorded it in London last September at the O2 theatre. I'll be talking about race and culture and my usual stuff.